You are here
Dambuster Drain Cleaner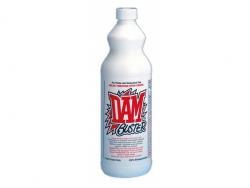 Drain Cleaner 1 Litre Bottle.
Powerful liquid drain cleaner one of the best on the market. The perfect solution to your blocked sinks and drains. Our industrial strength drain cleaner is a uniquely formulated chemical agent that dissolves grease. As well as hair, sanitary napkins, paper, cigarette ends and other organic matter on contact.
Dambuster drain cleaner pours through standing water directly to the blockage. Built-in inhibitors ensure this product will not harm drains, pipes or septic tanks. This drain cleaner can be used on domestic drains. As well as sink drains, bath and shower drains, toilet and floor drains and also for regular maintenance.
Caution:- Do not allow to stand in contact over porcelain surfaces, enamel, acrylic, gold, aluminium or chrome. Keep hands and face away from drain when using and allow adequate ventilation. Never mix drain cleaner with other drain products or chemicals at any time. Do not add water to the content of this bottle. Never use a plunger with this product