You are here
Dulux Trade High Gloss Pure Brilliant White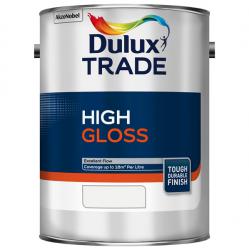 THIS PRODUCT IS AVAILABLE FOR THE LOCAL DELIVERY OR COLLECTION ONLY.
Dulux Trade High Gloss is a solvent-based formulation which offers excellent flow, giving surface a tough, durable high gloss finish. Suitable for us eon interior and exterior wood and metal surfaces.
APPLICATION DESCRIPTION
Application: brush or roller only. For health and safety reasons related to all solvent based paints, spray application is not recommended. STIR THOROUGHLY BEFORE USE. Apply 1 coat of the appropriate coloured Dulux Trade Undercoat, followerd by 1 or 2 coats of Dulux Trade High Gloss. Allow minimum of 6 hours for the undercoat to dry before applying the gloss finish. Where a second coat of Dulux Trade High Gloss is required, allow mimimum of 16 hours between coats.
TIPS & ADVICE
1. Preparing the Surfaces - to get best results, ensure sufrace to be painted are sound, clean and dry (new surfaces particularly must be fully dry). Before surface preparation, read the Health & Safety information about old lead paints.
2. Cleaning - after use, remove as much paint as possible from brushes before cleaning with brush cleaner.
3. Storing - do not use or store in extremes of temperatures.