You are here
Dulux Trade Quick Dry Satinwood Pure Brilliant White 1L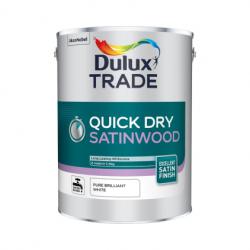 THIS PRODUCT IS AVAILABLE FOR THE LOCAL DELIVERY OR COLLECTION ONLY.
Dulux Trade Quick Dry Satinwood is an advanced water- based, satin finish that provides a smooth, durable top oat for use on both interior wood and metal.
Application: Apply by brush, roller or spray. For best results use a good quality synthetic (nylon polyester) brush, designed for use with water- based paints. STIR THOROUGHLY BEFORE USE. The normal finishing process is 2 full coats of Dulux Trade Quick Dry Satinwood on previously coated or suitably primed surfaces. Where a strong colour change is involved, or when overcoating a factory primed substrate, we recommend that a coat of Dulux Trade Quick Dry Undercoat is applied.
1. Prepering the Surfacess - to get the best results, ensure surfaces to be painted are sound, clean and dry (new surfaces particularly must be fully dry). Before surface preparation, read the Health & Safety information about old lead paints. Water- borne coatings can be sensitive to rubber containing plasticiser such as flexible PVC strips. The paint film may partially dissolve due to these plasticisers and become sticky, It is advisable to replace such flexible strips with those made of EPDM rubber. We recommend that you seek the advice of the manufacturers of the stirps regarding this problem.
2 Cleaning - after use, remove as much paint as possible from equipment before cleaning with water.
3. Storing - do not use or store in extremes of temperature and protect from frost.