You are here
Marcrist CK850 115 x 22.2mm Diamond Blade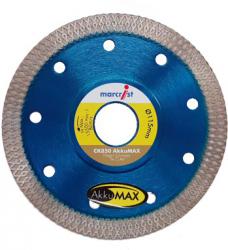 Marcrist CK850 115 x 22.2mm Diamond Blade
Fits almost every 115mm (4,5") angle grinders. Marcrist CK850 wheels contains real diamonds wich give their wheels the unique performance properties.
- super thin 1.1mm width
- can be used wet or dry
- 8mm diamond segment height
Purpose designed for cordless angle grinders and can extend battery life up to 100%.
Suitable for:
- Ceramic Tiles
- Porcelain
- Quartzite
- Lime Stone
- Terracotta
- Marble
- Granite
- Natural Stone
- Cast Iron
- Thin Metal
- Earthenware
- Slate (wet cut only)
- Glass (with some chippings)
Marcrist CK850 will cut them all, no need for different wheels ofr a multitude of materials.