You are here
Pavestone Granite Sett 100 x 100 x 50mm Silver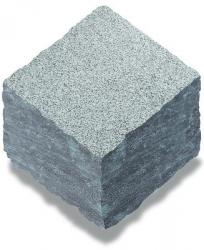 THIS PRODUCT IS AVAILABLE FOR THE LOCAL DELIVERY OR COLLECTION ONLY
Granite Setts are blocks of granite stone that are hand cropped to achieve a cobble stone which can be used for courtyards, pathways or simply as a retaining edge complimenting paved areas.
Stone Setts have rustic features such as `time worn & weathered` faces, rounded edges and can be used to create period settings full of character.
Laying Comments:
Setts must be laid on a full wet bed of mortar. Pavestone strongly avise an SBR additive be included within the mortar mix and that the underside of the setts are brushed with Priming Slurry at the point of laying. This will strongly enhance the strenght of the stone bond and extend durability and lifespan of the final job.
Use a traditional sand cement mortar to point and use SBR additive in the mortar to enhance the bond and strength.