News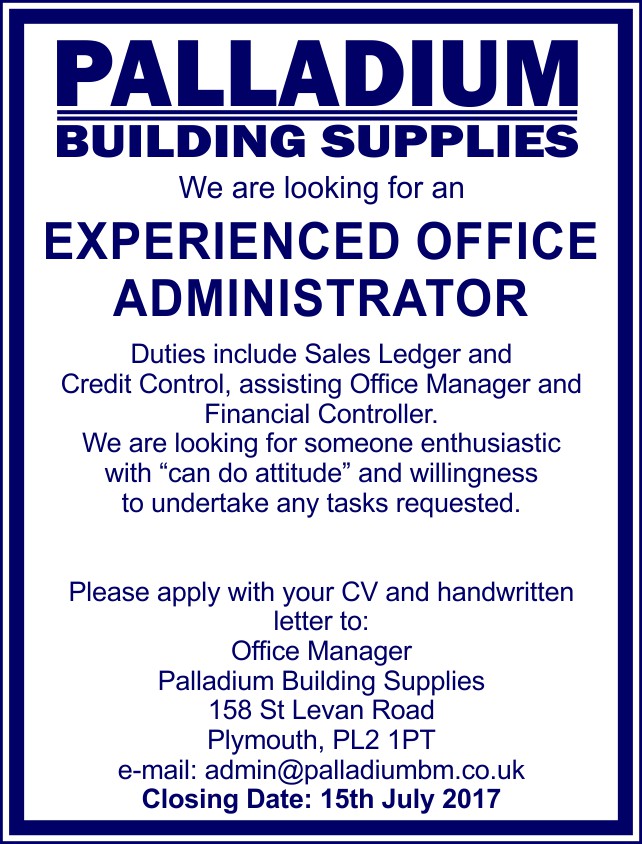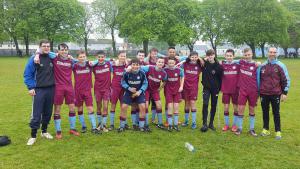 The Railway Beacon's under 15's Football Team
Palladium Building Supplies are proud to sponsor and be associated with The Railway Beacon's under 15's boys Football Team. The Railway Beacon's have won promotion to the next tier by winning The Royal Oak DJM League with an emphatic win over their title rivals Ivybridge on the last day of the season. The boys have been playing together for 4 years, first in the under 11's then progressing through to the under 15's. No team is complete without the manager, coach, trainers and willing family who ferry their charges from match to match so a special thank you to all those involved. Congratulations lads, an outstanding season, worthy winners.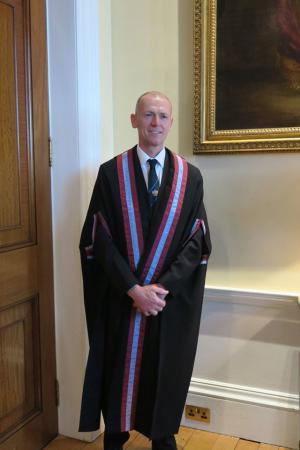 Worshipful Company of Builders Merchants
Many congratulations to our managing director Keith Olver who's been accepted as a Liveryman to the Worshipful Company fo Builders Merchants. Keith was accepted into the Livery in a ceremony hosted by the Master in London, membership being by invitation only something not bestowed on many. The Worshipful Company of Builders Merchants plays a key part in teh builders' merchants and fundraising for a number of charities. It is also very active in supporting the Mayoralty in the city of London and raising the profile of builders' merchants, while highlighting their importance in 'Supplying Britain's Building Needs'.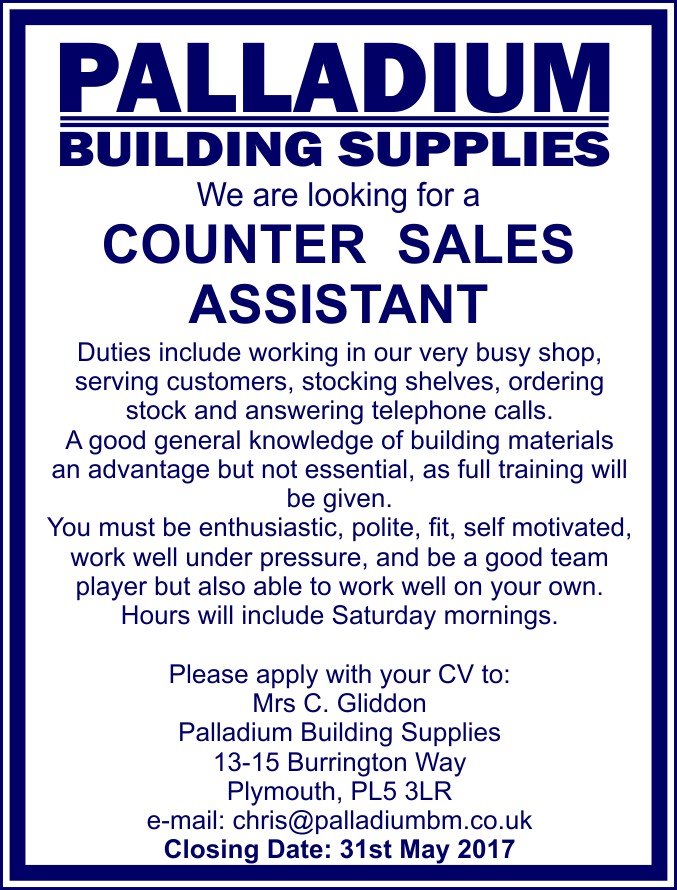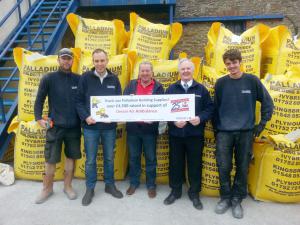 Over the past 25 years, Palladium Building Supplies have been proud to be associated with the Devon Air Ambulance Trust. Though found raising events, and thanks to the gnenrosity of Palladium's customers and suppliers, our branches in Ivybridge, Kingsbridge and Plymouth have been able to raise funds for this important charity. Since their first flown mission, the Trust has been serving communities in Devon and saving many lives. The skill of all those involved in the Trust is only matched by their dedication in serving Devon.
(l-r Alan Sanders - Palladium, Nick Cox - Palladium, Rex Brown - Devon Air Ambulance, Barry  Read - Palladium, Josh Berry - Palladium)
Devon Air Ambulace Trust is a registered charity. 
Registered Charity No: 1077998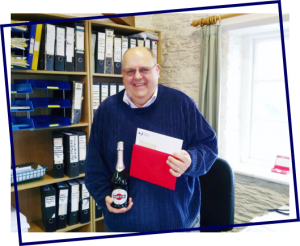 We're sorry to announce that our Brian is leaving Palladium in Kingsbridge. Over the years Brian has been studiously working away in the top office, contributing to the smooth running of the company. Personally you couldn't meet a nicer person, who's honest, compassionate and a caring soul who has with his manner managed to calm those around him when it all semms to be getting away from you. Brian will be sorely missed, all the very best mate, enjoy your retirement and when you're eating that sticky bun by the sea think of us!!!
Trade Day at Burrington Way Branch
We are in the midst of organising a Trade Day for Wednesday May 17th 2017 8am - 4pm. We have over 20 suppliers who will be in attendance. Everyone who attends will receive a voucher for a free pasty and coffee. The suppliers will also have promotional freebies, raffle prizes, excellent deals to be had at very silly prices, but it is for one day only!
Make a Diary date - don't miss the one oportunity to pick up a cracking deal!
Wednesday May 17th at Burrington Way Branch.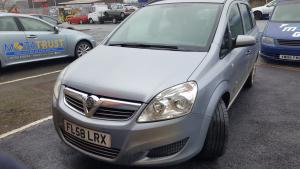 Here she is!!! This is the vehicle that's going to take us around Europe on the 2017 Dover to Monte Carlo Pavestone Rally. We've still got a few months to get her ready, our plan is in place so stay close for all our up to date news. Please follow the links to our Just Giving pages and help us to support the Teenage Cancer Trust and Rainy Day Trust by giving what you can to these charities - thank you.
Colour inspiration can be found just above anywhere; from a cushion or pair of shoes, to the flowers in your garden. Thanks to the Dulux Vusalizer App it's now easier than ever before to bring those colours to life in your home.
The eas to use app lets you pick a colour from anywhere, and with augmented reality technology, allows you to see the colours live in your living space. And that's not all. 
Find out just how simple Dulux Visualizer App is to use.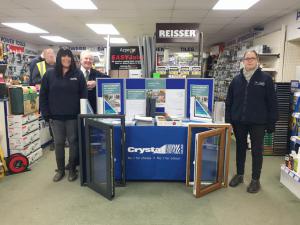 A successful morning with interest from several contractors at our Kingsbridge Branch. Crystal Glass offer a no nonsense easy approach to quoting for doors and windows. Choices of style and colour, fully finished for site delivery, a convenient service that has the contractor in mind. A company that can fit into your schedule Crystal Glass along with Palladium Building Supplies offer the comoplete service, from inception to delivery.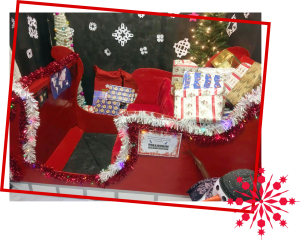 Wolseley Trust Family Festive Fayre
Our Plymouth branch was pleased to supply The Wolseley Trust with paint and materials to enable the charity to build a sleigh for Santa so he could give out presents to the children at the Trusts Family Festive Fayre.
Congratulations to all the winners of our Free Prize Draws over the festive period. All our winners did was complete a simple form to win these fantastic prizes so it's worht keeping up to date on all our news, competitions and events!