You are here
News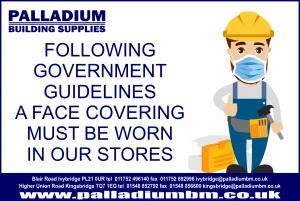 Following Government Guidelines customers are required to wear face coverings when visiting our stores.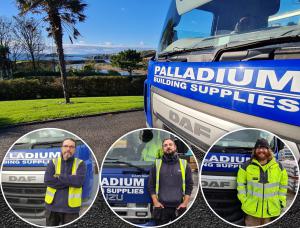 Driver Development Program
Palladium Building Supplies would like to welcome Mariusz, Mark and Rory to our LGV (Class II) Driver Development Program as part of our ongoing commitment to staff training and staff development. Not only will they be an asset to the business they'll help with the wider issue of the current national LGV driver shortage.
Donations to our nominated charities from this years Golf Day.
Donations to our nominated charities from this year Golf Day. Although the day is full of fun and games, we doi have a serious side to proceedings in that all the proceeds from the day to go to our nominated charities, Kingsbridge Triangle Centre, Rainy Day Trust, Devon Air Ambulance Trust and Gables Dogs & Cats Home.
A huge thank you to everyone who made the day the success it was.
The Palladium Teletubbies out in force on Hospital Hill in Kingsbridge to see the Devon Stage of the Tour of Britain 2021. There were huge crowd all along the route, in glorious Devon sunshine to support the race.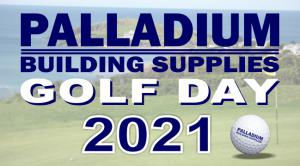 Palladium Charity Golf Day 22nd July
Perfect weather greeted the golfers to Bigbury Golf Course for an enjoyable day of golf. After refreshments and some fun golf games, the teams went to their starting holes for a shot gun start.
Late afternoon saw all the golfers making their way back to the club house to enjoy some refreshments and regale stories of that "Hole in one (well almost)" or "The bunker that jumped out on me".
Company Directors Gary and Keith Olver presented prizes for the highest individual points score along with highest team points score to name a few. They also presented booby prizes for those not so perfect games which included lost balls and not getting out of many bunkers.
The charity auction followed with items donated by Palladium and our suppliers with Keith as auctioneer. With a friendly relaxed atmosphere, the bids came thick and fast with a total of £3320 raised for the four charities that were represented on the night.
Thank you to everyone who contributed and attended on the day.