You are here
Pavestone Classic Sandstone Light Grey Calibrated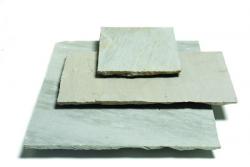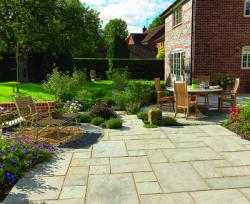 THIS PRODUCT IS AVAILABLE FOR THE LOCAL DELIVERY OR COLLECTION ONLY.
Sandstone is a sedimentary rock formed millions of years ago which can be processed by stone masons to create a number of finishes to cmplement all garden architectures. Each piece of paving with its unique natural coluration, texture and markings combines to form a rich tapestry of overall hue to your garden's landscape.
Part of the character of Sandstone paving is that no two stones are coloured the same; however, when combined they create a rich tapestry of colour to make an overall hue as presented here. Seasonal changes alos bring differing presperctives to the reflected colours. In strong summer sunlight a sandstone patio will appear to have less colour variation, whilst after rain the colours will be of deep patina.
Each of the colour swatches reproduced here demonstrate the overall hue of a paved area. The natural colour variation of individual paving flags will vary significantly when viewed individually.
Hand cut edges with ariven face.
Coverage
20m2 Contractor Pack:
- 900 x 600mm (17 pieces)
- 600 x 600mm (17 pieces)
- 600 x 290mm (18 pieces)
- 290 x 290mm (19 pieces)
71 paving slabs per pack.
7.2m2 Patio Pack
- 900 x 600mm (6 pieces)
- 600 x 600mm (6 pieces)
- 600 x290mm (6 pieces)
- 290 x 290mm (5 pieces)
23 paving tiles per pack.
23 pieces (pack) cover approximately 7.2m2 based on a typical jointing gap of 7 - 14mm.