You are here
W712 50mm 92½° Swept Bend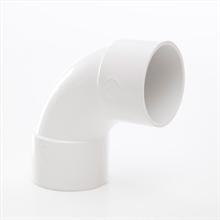 W712 Hunter 50mm 92½° Swept Bend Solvent Weld White
Hunter's high performance MuPVC Weld waste system manufactured to BS EN1566 is ideally suited for high temperature discharge applications and has excellent heat, UV stability and chemical resistance qualities. 
Hunter Solvent waste is the system of choice for the pro plumbing installer, once welded the waste cannot be pulled apart, the rigid joints provide a paermaent wateright connection and the Solvent Weld Waste system can be used exrernally.
BOILER FLUE WARNING:
The system is designed for wasate water discharge and should not be used as a high temperature gas boiler exhaust system (commonly referred to as a flue). For this type of installation, please refer to the Boiler manufacturers installation instructions and install an exhaust system as recommended.